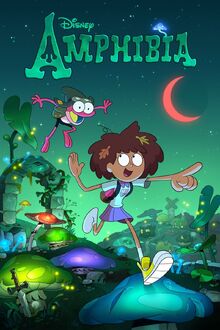 Amphibia is an American animated television series produced by Disney Television Animation for Disney Channel. The show premiered on Disney Channel on June 17, 2019.
Post-Production Sound Services, except for Disney TVA doing the mix, are provided by Boom Box Post (uncredited) with Supervising Sound Editor Kate Finan and Lead Sound Editor Brad Meyer; no sound designer or foley artist is yet credited.
Sound Effects Used
Hollywoodedge, Big Slow Boinkboing CRT015801
Hollywoodedge, Medium Exterior Crow PE140401
Hollywoodedge, Rooster Crow Typical AT086301 (Heard once in "Cursed!".)
Shiny Sound 2 (Heard once in "Lily Pad Thai".)
Sound Ideas, BIRD, ROOSTER - MORNING CALL, ANIMAL 01 (Heard once in "Children of the Spore" in a high pitch.)
Sound Ideas, BLINK, CARTOON - XYLO EYE BLINKS (Heard once in "Combat Camp" and "Dating Season".)
Sound Ideas, CARTOON, ACCENT - XYLOPHONE TRILL, LONG, MUSIC, PERCUSSION
Sound Ideas, CARTOON, BOUNCE - FAST, VARIED JEWS HARP BOUNCING
Sound Ideas, CARTOON, SLIDE - SHORT VIOLIN SLIDE UP
Sound Ideas, PLINK, CARTOON - SOUR PLINK (Heard once in "Hop Luck".)
Sound Ideas, SCI FI - SINGING SWORD
Sound Ideas, SQUISH, CARTOON - LITTLE SQUISH
Sound Ideas, ZIP, CARTOON - BIG WHISTLE ZING OUT (Heard once in "Contagi-Anne".)
Wilhelm Scream (Heard once in "Prison Break".)
Image Gallery
Audio Samples
External Links
Community content is available under
CC-BY-SA
unless otherwise noted.