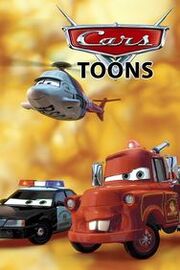 Cars Toons is a series of American computer-animated short films by Pixar. It features Lightning McQueen and Mater from Cars. Larry the Cable Guy reprises his role as Mater while Keith Ferguson replaces Owen Wilson as Lightning McQueen (until The Radiator Springs 500 ½ when Wilson reprises his role).
The series' first broadcast was on October 27, 2008 on Toon Disney, Disney Channel, and ABC Family. Not exclusive to television, some of those episodes have also premiered on DVDs / Blu-rays or as a theatrical short.
Storyline
Rev up your engines for this unforgettable collection of Cars Toons starring Mater, the lovable and hilarious tow truck from the hit movie Cars.
TV Show Intro
Sound Effects Used
Sound Ideas, BELL, SHIP - LARGE BRASS SHIP'S BELL: SINGLE RING
Sound Ideas, HUMAN, BABY - CRYING - (Heard once in "El Materdor.") (After Mater is supposedly defeated by the bulldozers, one of the cars in the audience is making this crying sound.)
Hollywoodedge, Bull Roar Medium Pers PE022301
Hollywoodedge, Car Crash Small Metal PE112101
Hollywoodedge, Screams 1 Woman Singl PE133501
Image Gallery
Audio Samples
External Links
www.imdb.com/title/tt1384816/