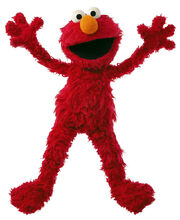 Elmo is a furry red Muppet monster with an orange nose who lives on Sesame Street. He is self-described as three-and-a-half years old, and almost always refers to himself in the third person. The character's popularity led to his own segments on Sesame Street including "Elmo's World" and "Elmo the Musical".
Character background
Edit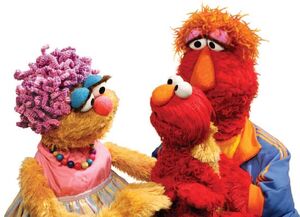 Elmo lives in an apartment on Sesame Street with his mother Mae, his father Louie, and, in some storybooks, a sister named Daisy. He has a pet goldfish named Dorothy.
Other relatives in Elmo's family include grandma and grandpa; his great-grandmother (featured in a 1989 episode) and his great-grandfather (named Selmo); his Uncle Jack, Aunt Jill and cousin Jesse (featured in When Families Grieve]]); plus additional cousins Elmer (featured in Kids' Favorite Country Songs) and Chester (featured in Here For You). Additionally, the television special Sesame Street Stays Up Late shows Elmo's "international" cousins — Pepé from Mexico and Elmonosuke from Japan. As seen in The Furchester Hotel, he also has an aunt Funella Furchester, an uncle Furgus Fuzz, and a cousin Phoebe Furchester-Fuzz.
Elmo's early childhood has been shown with Elmo as a 13-month-old infant in the Sesame Beginnings video series and in flashbacks shown in Elmo's Potty Time and "Bye Bye Binky."
According to a video, his favorite food is wasabi; that's why he has no eyelids. This has been reaffirmed on Rove Live and in other interviews, along with the Muppet bios published in several Sesame Workshop press kits.Season 41, Season 42, Season 43, Season 44 In 2000, Elmo Donny & Marie (1998 series)|told Donnie and Marie Osmond that his mother and father tell him to never "hate" any food, but he makes an exception for Brussels sprouts, Marie decided to taunt him with a bowl of them. Brussels sprouts have often been listed among Elmo's pet peeves in press kit bios. Press Kits: Season 40, Season 41, Season 42</ref>
As with many children of his age, Elmo is seen somewhat infrequently with a favorite toy of his: an orange monster-like doll named Baby David. In the film The Adventures of Elmo in Grouchland, Elmo is devoted to his blue blanket, Blanket.
Elmo's birthday is February 3rd.
Sesame Workshop describes the character as:
for an event at Universal Studios Singapore, however, Linz stated the recording was a one-time performance.
Template:Youtube
Peter Linz's Facebook page
Casting history
Edit
Primary Performers
Kevin Clash - 1985-2012
Ryan Dillon - 2013-present
Other Performers
Brian Muehl - 1980-1984
Richard Hunt - 1984-1985
Peter Linz - Spaghetti Space Chase opening event at Universal Studios Singapore (2013, voice for walk-around character)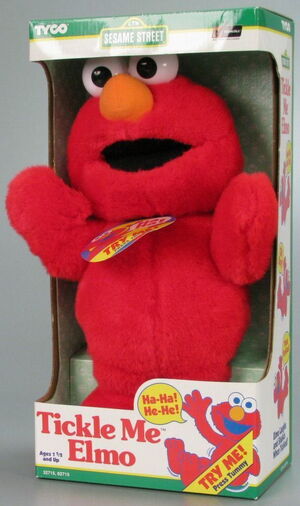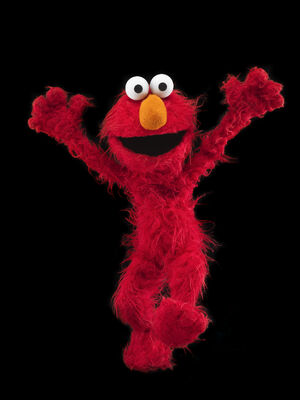 On Big Bag, he made a guest appearance in one episode, as Chelli's pen-pal.
Elmo's earliest illustrated appearance was in the 1981 book The Sesame Street Circus of Opposites.
For the 2005/2006 season, Sesamstraat (the Dutch version of Sesame Street) moved into new scenery. The scenery was introduced with a TV special. Bert, Ernie, Cookie Monster and Elmo flew over to The Netherlands for this special occasion. It was the first time the American characters visited the Dutch street. Apparently, during that visit, Kevin Clash (who had come along as puppeteer for the characters) had told Elmo's Dutch voice actor Hein Boele, that he did the best Elmo impression of all the Elmo voices he had met before.The Dutch voice actor of 'Elmo'
The meaning of life to Elmo? He stated that: "Um, the meaning of life for Elmo is respecting your elders by saying Mr. and Ms. and saying thank you and also giving lots of loves and kisses. That's the meaning of life for Elmo." Ask Elmo.
He is 24 inches tall, when measured in 2011 by guest Drew Brees.Measure, Word of the Day segment, Sesame Street. * At a screening of Being Elmo at the Museum of the Moving Image, Elmo was asked what it was like to work with Richard Hunt, to a huge response from the audience. He recollected "It was TORTURE! ...Elmo doesn't like opera! Elmo doesn't like tuna fish sandwiches and Schweppes Ginger Ale. Elmo doesn't like any of those things! But for some reason, when he was working Elmo, Elmo was motivated to love those things." Clip from the Q&A after the Being Elmo screening in NY 9/25/11
An Elmo cameo was written for The Muppets, but both Jason Segel and Nick Stolle explained that it would've been too expensive Exclusive: On the Set of the New Muppets Movie, Stein, Joel, Time Jason Segel Says New Muppet Character Walter 'Was Born In My Brain', Ryan Seacrest.com
David Rudman had used the Elmo puppet (before he became an established character) in his audition video for Jim Henson in 1981/
Community content is available under
CC-BY-SA
unless otherwise noted.