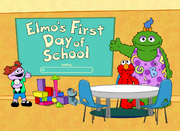 The game our team has brought to you all into the Sesame Street Games category on our website is a game entitled Elmo's First Day of School, which features the most popular of all the Muppets, Elmo, with whom you are about to have a lot of fun, even though he is not that excited for the first day of school, which we think is the same sentiment that most kids have as well. That's why you are going to help make this day a great one for him, and in the next part of the description you can find out how to do that. In this game, Elmo needs your help to get ready for school, and the first thing he will do is to dress up, and he will request a certain shirt, and you have to give it to him. Then, you will sort the toys at school, play with other classmates, and do all sorts of other things, up until Mommy will come back to pick Elmo up and take him home. You just follow the instructions that Elmo and the narrator give you.
Date: 10 November 2006
Characters
Link
Community content is available under
CC-BY-SA
unless otherwise noted.