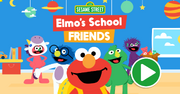 Description
Play Together
Using puppets or stuffed animals, role play one of the problems in the game with your child, or make up your own. Ask your child what she can do to help. If she has trouble coming up with a solution, give her a few options and have her pick one. Play out the solution together!
Link
https://www.sesamestreet.org/games?id=18007
PBS Kids/Playhouse Disney Games
Sesame Street Games
Community content is available under
CC-BY-SA
unless otherwise noted.