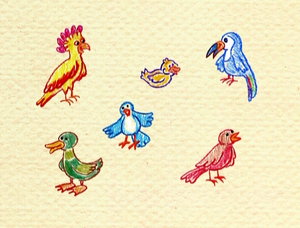 | Picture | Segment | Description |
| --- | --- | --- |
| | Guess what Elmo's thinking about today? | Elmo opens his door and several different types of birds fly out including a pigeon, a robin, a dove, a chicken, a rooster, a penguin, a bluejay, a duck and an owl, amongst others. |
| | Dorothy's Question | Dorothy wants to know what birds sound like. |
| | The Noodle Family | Mr. Noodle's brother Mr. Noodle makes the sound of a telephone, a fire engine, a raspberry, and then finally some bird sounds. Pretty soon he's surrounded by a duck, a chicken, an owl, a crow, a pigeon, a turkey, and a robin. |
| | Kids and Baby | Kids make bird sounds. |
| | Video E-Mail | Bert intends for Bernice to make pigeon sounds, but she's shy. |
| | Elmo's Question | Elmo counts how many eggs a goose can lay. |
| | Film | Elmo's friend Cassidy tells all about the ducks on her farm who lay eggs. |
| | Quiz | Big Bird lives in a nest. |
| | TV Cartoon | The Bird Lady dances the Chicken Dance on the Bird Channel. Coming up next: "The Loon Ranger", starring Walter Pidgeon. |
| | Interview | Elmo talks to a robin (performed by Stephanie D'Abruzzo). |
| | Tickle Me Land | Dorothy imagines Elmo flying like a bird, swimming as a penguin and as a peacock. |
There are two versions of the robin explaining peacocks to Elmo. In one, she says, "Some birds can't swim or fly, like peacocks, but they still have a lot of features." from Springtime Fun VHS & DVD, Early PBS Kids/Sprout Airing and Sesame Street Youtube Channel. In the other, she says, "And some birds just like to show off their colorful feathers. Spread your stuff, peacock!" from All About Animals DVD and late PBS Kids/Sprout airings.
Community content is available under
CC-BY-SA
unless otherwise noted.