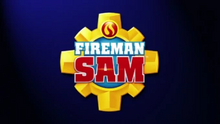 Fireman Sam is a British animated comedy children's series about a fireman called Sam, his fellow firefighters, and other residents in the fictional Welsh rural village of Pontypandy
Contents
Storyline
Fireman Sam and his colleagues protect the citizens of the Welsh town of Pontypandy. Whenever the alarm sounds, brave Sam and his co-workers can be counted on to jump into a fire engine, hop onto a helicopter, or even launch an inflatable lifeboat to battle blazes, mount rescue missions, or provide medical attention to those in need. The episodes not only teach valuable lessons on fire safety to young viewers, but reinforce the importance of staying calm during an emergency.
TV Show Intro
Hollywoodedge, Cats Two Angry YowlsD PE022601 (Heard once in "Going out with a Bang." and "Bus Trouble.")
Hollywoodedge, Gusts Heavy Cold Wind PE031601 (Heard once in "Blow Me Down.")
Hollywoodedge, Siren English Police EE066801 (Used for Jupiter from Season 5-present.)
Hollywoodedge, Sm Dirt Rock Spill CRT052401  (Heard once in "Neighbourhood Watch Out.")
Hollywoodedge, Wood Crash Large PE113501 (Heard twice in "Deep Trouble for Sam")
Sound Ideas, ALARMS - BURGLAR ALARM - BELL (used as the station's alarm bell all throughout Series 5)
Sound Ideas, Auto, Crash - Crashes And Rolls Down Embankment (Heard once in "Halloween.")
Sound Ideas, DOG, POMERANIAN - SMALL DOG, BARKING, ANIMAL (Heard in "Dog Day Disaster.")
Sound Ideas, TRAIN, STEAM - STEAM TRAIN: WHISTLES, CLOSE UP (Used for the Pontypandy Flyer.)
Image Gallery
Audio Samples
External Links
Community content is available under
CC-BY-SA
unless otherwise noted.