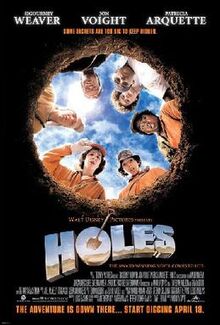 Holes is a 2003 American adventure comedy film directed by Andrew Davis and written by Louis Sachar, based on his novel of the same name, which was originally published in August 1998. The film stars Sigourney Weaver, Jon Voight, Patricia Arquette, Tim Blake Nelson and Shia LaBeouf.
The film was co produced by Walden Media and Walt Disney Pictures, and distributed in many markets by the distribution company by Disney, Buena Vista.
Holes was released in the United States on April 18, 2003, and earned $71.4 million worldwide.[1] It was later released on DVD and VHS on September 23, 2003, by Buena Vista Home Entertainment and Walt Disney Home Entertainment. The film is dedicated to Scott Plank, who died in a car accident six months before the film's release, in October 2002.[2]
Storyline
"But if you forget to come back for Madame Zeroni, you and your family will be cursed for always and eternity." Those were the exact words spoken to young Elya Yelnats the day he forget to repay Madame Zeroni. From then on his family was cursed with bad luck. One hundred years later Stanley Yelnats IV is accused of stealing a pair of cleats from a major league baseball player and sent to Camp Green Lake (a dry lake bed in the middle of the desert). It never rains at Camp Green Lake, it hasn't for one hundred years. The secretive and mysterious Warden has each inmate spend every day digging one hole to "build character." But when an artifact from the famous "Kissin' Kate" Barlow if found in a hole, the Warden forces the boys to work double time leading Stanley to deduce they're digging because the Warden is looking for something. But what? And how is the mystery of Camp Green Lake, connected to Stanley's family curse?
Also See
Sound Effects Used
Image Gallery
Audio Samples