Impractical Jokers is an American hidden camera reality series that premiered on TruTV on December 15, 2011, and is produced the show such as Impractical Jokers: After Party, Impractical Jokers: Hawaii Special, Impractical Jokers: Inside Jokes and Jokers Wild by NorthSouth Productions. It follows Joseph "Joe" Gatto, James "Murr" Murray, Brian "Q" Quinn, and Salvatore "Sal" Vulcano, the four members of the comedy troupe The Tenderloins, as they coerce one another into doing public pranks while being filmed by hidden cameras. The show differs from other prank television programs, focusing on witty humor, as compared to slapstick or crude comedy. On March 7, 2018, TruTV announced that the show would be renewed for an eighth season that will have 26 episodes, and on February 11, 2019, it was announced that the series would premiere on March 28, 2019. TruTV also confirmed an Impractical Jokers feature-length movie is planned, which began filming in April 2018 and is expected to premiere sometime in 2019. A UK version of Impractical Jokers began airing in winter 2012 on BBC Three. It starred comedians Paul McCaffrey, Joel Dommett, Marek Larwood and Roisin Conaty.[16]The pilot was filmed and placed online as part of "The Comedy Kitchen" in 2012. The first series included six episodes, which aired from November 15 to December 20, 2012. The second series also included six episodes, and aired from February 24 to April 2, 2014. It was produced by Yalli Productions. It was cancelled after Series 2 in April 2014, mainly due to its unpopularity. However, more recently, Comedy Central and Channel 5 picked up the rights to co-produce a third season of Impractical Jokers UKwith Yalli Productions, starring Late Night Gimp Fight. A Dutch version was broadcast on Veronica in 2013, called De Fukkers. In 2015 a new version started at RTL 5, named Foute Vrienden, like the Flemish version. A Belgian (Flemish) version broadcast on 2BE in the fall of 2012, titled Foute Vrienden. James Murray appeared in episode 5 of the first season. The second season, which started in March 2014, included 10 episodes. A Brazilian version is currently being broadcast on SBT titled Amigos da Onça. The series premiere aired on January 7, 2013, and ended on August 13, 2013. James Murray appeared in episode 3 of the second season. Lebanese version was broadcast on Al Jadeed in the fall of 2013. A Mexican version broadcast on TBS Latin America started on May 20, 2015 with the title Impractical Jokers. A Greek version was broadcast on Ant1 in February 2014 with the title Wanted. A French-Canadian version was broadcast on V on February 24, 2014 with the title Les Jokers. A Swedish version was broadcast on TV6 in April 2014 with the title Radiostyrd. A Spanish version was broadcast on Neox in 2014 with the title Sinvergüenzas. An Egyptian version was released in 2015 with the title Al Mohayesoun. A Russian version started broadcasting on November 17th, 2018 on Che with the title Shutniki.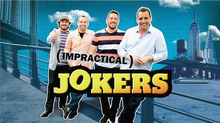 Parodies
Edit
Community content is available under
CC-BY-SA
unless otherwise noted.