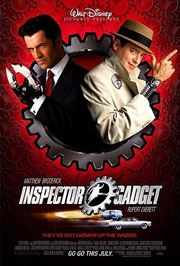 Inspector Gadget (also known as Inspector Gadget: The Movie and The Real Inspector Gadget in the working title) is a 1999 American science fiction action comedy film directed by David Kellogg and written by Kerry Ehrin and Zak Penn from a story by Ehrin and Dana Olsen. Loosely based on the 1983 animated television series of the same name, the film stars Matthew Broderick as the title character, Rupert Everett as Dr. Claw, Michelle Trachtenberg as Penny and Dabney Coleman as Chief Quimby. Three new characters were introduced such as Dr. Brenda Bradford (played by Joely Fisher), Mayor Wilson (played by Cheri Oteri) and the Gadgetmobile (voiced by D. L. Hughley). The film tells the story of how Inspector Gadget and Dr. Claw came to be. It was filmed in Pitts
burgh, Pennsylvania, Baton Rouge, Louisiana and Los Angeles, California with the ice castle-like main tower of Pittsburgh's PPG Place playing a central role.
Produced by Caravan Pictures and DiC Entertainment (which was owned by The Walt Disney Company at the time of production), the film was released theatrically by Walt Disney Pictures on July 23, 1999. It was the last film produced by Caravan Pictures, as the company merged into Spyglass Entertainment. This film was dedicated to the memory of production designer Michael White who died on January 19, 1999 in Los Angeles during production of the film at the age of 36. The film was a moderate box office success with a worldwide gross of $134.4 million against a $90 million budget despite receiving negative reviews from critics. It was followed by the 2003 direct-to-video sequel Inspector Gadget 2, though none of the original cast (except D. L. Hughley) reprised their roles.
Contents
Storyline
Also See
Movie Trailer
Sound Effects Used
Image Gallery
Audio Samples
External Links
Storyline
Also See
Movie Trailer
Inspector Gadget (1999) (Trailers)
Sound Effects Used
Anime Metal Hit Sound 5

Hollywoodedge, Bites Three CrunchyB PE136401

(1st bite)

Hollywoodedge, Bullet Ricochet OffH PE096801

Hollywoodedge, Cat Yowls Pain CRT012604

Hollywoodedge, Catfssst Yowl Hiss CRT012603

Hollywoodedge, Computer Beeps Vari CRT050501 (Used for Gadget's 'Copter, and heard in the Caravan Pictures logo.)

Hollywoodedge, Doppler Car Horn By Ap PE077401

Hollywoodedge, Laser Blasts CRT050604 (Heard for Robo-Gadget's flamethrower, but also mixed with SONY FIREBALL ROARING SOUND.)

Hollywoodedge, Laser Zaps CRT059601

(Heard in the opening intro, as well as the scene where Brenda sets the cardio monitor.)
Hollywoodedge, Quick Whistle Zip By CRT057501 (Heard once in the Disney logo.)
Hollywoodedge, Quick Whistle Zip By CRT057502 (Heard once in the Disney logo.)
Hollywoodedge, Quick Whistle Zip By CRT057506 (Heard once in the Disney logo.)

Horta Wobbles

SONY FIREBALL ROARING SOUND

(Used for Robo-Gadget's flamethrower, and heard for blowing up all of Riverton.)

Sound Ideas, AIRPLANE, JET - FAST PASS BY, LONG

Sound Ideas, CARTOON, TWANG - WOBBLING SAW BLADE TWANG 01

Yahoo! Yodel
Image Gallery
Inspector Gadget (1999)/Image Gallery
Audio Samples
External Links