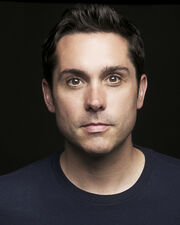 Joseph May (born June 16, 1974) is a British-Canadian actor, who has appeared in television and film. He is best known for his role as Andy Button in the television series Episodes, Paul who was the boyfriend of Sam Colloby, in Casualty, Luke in I Live with Models and for voicing Thomas the Tank Engine in the US dub of the children's television series Thomas & Friends.
His other television roles include Adam Moseby in Bugs, Dan Sanders in Hollyoaks, Sgt. Markham in Stargate: Atlantis and Justin Trudeau in The Windsors.
His voice work in animation and video games include Link in G.I. Joe: Valor vs. Venom, Mr. Wexler in The Barbie Diaries, Autolycus in Class of the Titans, Michael Corleone in The Godfather, Perdido in Xenoblade Chronicles 2, Chase McCain in Lego City Undercover, Jost and Saravad in Horizon Zero Dawn, Hiro in The Crew 2 and Ellis in Blair Witch.