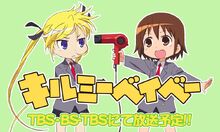 Kill Me Baby is a 13-episode (14 counting the OVA) comedy/slice-of-life anime.
Contents
Also See
Air Date
January 5, 2012 – March 29, 2012
Storyline
Theme Song Intro
Sound Effects Used
This anime mainly uses anime, Hanna-Barbera, Series 4000, and Warner Bros. sound effects, alongside minor selections from Series 6000. Only one Cartoon Trax/Disney and Edge Edition Volume 1 sound effect was used.
Image Gallery
Audio Samples