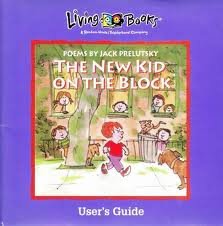 The New Kid on the Block is a Living Books computer game that was published by Broderbund and released on September 20, 1993.
It is the fourth Living Books game based on the 1984 book written by Jack Prelutsky. Instead of just one story, it was a collection of 17 poems. It is hosted by Jack Prelutsky as he voiced the cartoon counterpart of himself.
Summary
Sound Effects Used
Hollywoodedge, Long Stretch Pop CRT049307 (Pop only)
Hollywoodedge, Stretch Whiz Bonkie CRT017901 (Stretch only)
Hollywoodedge, Whistle Wdrum Metal CRT058104 (Bounce only)
Sound Ideas, CARTOON, YELL - FUNNY TARZAN YELL 01 (High Pitched)
Sound Ideas, CIRCUS, MUSIC - THEME 1A: FULL MIX, BRIGHT, EXCITING INTRO, FAST TEMPO, CARTOON (ending)
Sound Ideas, ELECTRICITY - ARC ZAPS/Sound Ideas, ELECTRICITY - HIGH VOLTAGE ELECTRICAL ARCING 01 (Heard in the closing credits.)
Sound Ideas, FROG, BULLFROG - CROAKING, ANIMAL, AMPHIBIAN 02/Sound Ideas, Animals - One bullfrog croaking 01
Image Gallery
Audio Samples
Community content is available under
CC-BY-SA
unless otherwise noted.