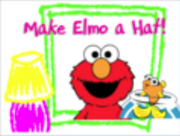 Description
Make a hat for Elmo!
Play Together
You can make your own silly hat at home. Fold a piece of construction paper to create a hat for your child, and together, color it and tape on different objects such as leaves and cotton balls.
Date: 22 November 2006
Link
https://www.sesamestreet.org/games?id=183
PBS Kids/Playhouse Disney Games
Sesame Street Games
Community content is available under
CC-BY-SA
unless otherwise noted.