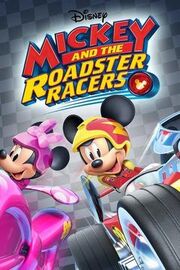 Mickey Mouse Mixed-Up Adventures is an American computer-animated children's television series produced by Disney Television Animation. It is a spin-off of Mickey Mouse Clubhouse. The series (known as Mickey and the Roadster Racers for its first two seasons) debuted on Disney Junior in the United States on January 15, 2017.
The series was renewed for a second season on March 15, 2017, which premiered on April 13, 2018. A third season was renewed one year after, leading to the series being renamed as Mickey Mouse Mixed-Up Adventures. The first episode under the new title aired on October 14, 2019.
This show features some of Russi Taylor's final performances as Minnie Mouse before she died of colon cancer on July 26, 2019.
On October 1, 2020, it was announced that a new series, entitled Mickey Mouse Funhouse (which is a reboot and revival of Mickey Mouse Clubhouse) is currently in development. It is scheduled to premiere in 2021 on Disney Junior.
Contents
Summary
Also See
Mickey Mouse Hot Diggity Dog Tales
TV Show Intro
Sound Effects Used
Image Gallery
Mickey and the Roadster Racers/Image Gallery
Audio Samples