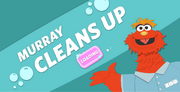 Description
Let's help Murray keep the hygiene on a high level at the zoo, bath the animals and take care of them.
Characters
Animals
Condor
Tiger
Lion
Ostrich
Toucan
Sheep
Crocodile
Warlus
Cameleon
Sloth
Polar Bear
Penguin
Iguana
Elephant
Zebra
Pig
Cow
Giraffe
Cheetah
Play Together
Talk together about the animal you're cleaning.
What do you think it eats?
Where do you think it lives?
What sound do you think it makes?
Trivia
There's a Rubber Duck that is reference to Ernie from Sesame Street.
The Zebra, Pig, Cow, Cheetah and Giraffe are Females, But the rest of the animals are males.
Their are some differences in the new one like...

Murray saids that the Lion's paws had sticky pads on them, they help them when he jumps.
Murray describes that a Zebra is a herbivore and a sloth is an omnivore and said "Guess What? You're an Omnivore too!"
Murray describes that a Condor is a small animal with pretty small feet like the Chameleon in the Old Version.
Murrays says that some animals uses a tail for balance that others use to keep the bugs away.
Murray says that the Elephant's ears are humongus 
Murray says "Incredible!" when he notice that the Polar Bear's nose to smell things instead of telling the viewers that some animals have a smell.
Murray says, "Penguins walk on 2 feet, just like you and I do."
Murray says "Check out how long those legs are!" to the Spider Monkey's legs like in the Giraffe version.
Murray says "The food she eats, goes in her tummy" that it's used in the Giraffe and the Pig instead of the Zebra.
Murray says that the Iguanas legs are small.
Murray says that the ostrich as a big back instead of a small back
When Murray notice that the Ostrich's tail has feathers on him, he says "Amazing!" instead of, "Believe it or not!" like in the original version
Murray says That if Warlus was the bigger the animal, the bigger the tummy." 
Murray says, "See those two long things coming out of his mouth, their called, tusks."
The Chameleon did not show the sticky tongue like the old version
Link
[1] https://www.sesamestreet.org/games?id=25625
PBS Kids/Playhouse Disney Games
Sesame Street Games
Community content is available under
CC-BY-SA
unless otherwise noted.