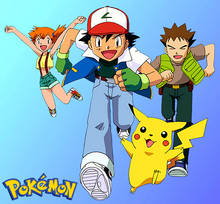 Pokemon is an American television on Fox from September 8, 1998 to present.
Storyline
Air Date
September 8, 1998 - Present
TV Show Intro
Description
The anime mainly uses Series 4000 and Series 6000 sound effects (along with a few Hanna-Barbera and Cartoon Trax Volume 1 sounds that were only heard in a few episodes), alongside using anime sounds. Later seasons would use some more H-B sounds, but still not often used.
Sound Effects Used
Anime Big Pop Sound (Used as its trademark for when a Pokéball is being thrown.)
Anime Bird Chirp Sound 3
Anime Deep Hit Sound
Anime Doom Stinger Sound 1 (High Pitched)
Anime Inflation Horn Sound (Often used for Jigglypuff when it gets angry.)
Anime Phoenix Screech Sound (Often used for Ho-Oh but heard in -4 pitch.)
Anime Rattle Sound 
Anime Surprised Sound
Anime Swish Sound 8
Anime Zip Sound
CINESOUND - EXPLOSION TYPE 2 (heard in "Clefairy and the Moon Stone")
Elektra Records, Metal Crash (Heard once in "Go West, Young Meowth.")
H-B HIT, CARTOON - HORN BONK (Heard once in "Meowth's Scrafty Tactics!".)
Hollywoodedge, Air Horn Blasts Truck PE079701
Hollywoodedge, Baby Crying Slowly PE144001 (Heard once in "Imitation Confrontation.")
Hollywoodedge, Bear Grizzly Roar Sin AT030301 (Used in early seasons as a voice/cry for some Pokémon, especially for Nidoking, Nidoqueen, Rhyhorn, and Rhydon. Was once used for Gyarados in "Talking a Good Game!". This sound effect was used until 2008.)
Hollywoodedge, Big Metal Clangthud CRT031902
Hollywoodedge, Body Falls Wooden Flo PE107401
Hollywoodedge, Car Crash Small 1 Shor PE111901 (Heard once in "Pokémon I Choose You!"
Hollywoodedge, Crash Metal Glass PE110801
Hollywoodedge, Crash Metal Glass PE110901
Hollywoodedge, Crash Metal Shatter PE110401
Hollywoodedge, Crickets 1 BT020401/Hollywoodedge, Night Ambience Light PE011701
Hollywoodedge, Doppler Car Horn By Ap PE077401
Hollywoodedge, Electricity Arcing 3 PE200301
Hollywoodedge, Elevator Bell DingsL PE192801 (Heard in "A Friend In Deed".)
Hollywoodedge, Gnat By Low Fast Whist PE212201
Hollywoodedge, Head Bonk Wbell Drum CRT031901
Hollywoodedge, Horn Honks Jeep Chero PE077301
Hollywoodedge, Lightning 08 CloseG SIG012601
Hollywoodedge, Lincoln Town Car In Sk PE073501
Hollywoodedge, Medium Explosion With Fi PE280301
Hollywoodedge, Noisy Small EngineS CRT035201 (Heard once in "The Water Flowers of Cerulean City".)
Hollywoodedge, Old Car Horns Single CRT021302 (Often used in a prototype version of "A Tag Team Battle Inspiration!")
Hollywoodedge, Quick Whistle Zip By CRT057501
Hollywoodedge, Quick Whistle Zip By CRT057502
Hollywoodedge, Quick Whistle Zip By CRT057504
Hollywoodedge, Quick Whistle Zip By CRT057505
Hollywoodedge, Quick Whistle Zip By CRT057506
Hollywoodedge , Screams 2 Man Yell Scre PE134301
Hollywoodedge, Screams 4 Man Gutwren PE134501
Hollywoodedge, Stretch Whiz Bonkie CRT017901
Hollywoodedge, Thunder Dry Rumbles PE050901
Hollywoodedge, Wood Door OCSqueak PE180401
Miscellaneous Anime Sound 9
Sound Ideas, ANIMAL, CREATURE - LARGE ANIMAL DEATH SCREAM (Typically used for Gyarados and a few other Pokémon.)
Sound Ideas, AUTO, CRASH - SKIDS AND CRASHES 03
Sound Ideas, BELL, FIGHT - BOXING RING FIGHT BELL: SINGLE RING, SPORTS
Sound Ideas, BITE, CARTOON - BIG CHOMP
Sound Ideas, BITE, CARTOON - BONE BITE (Heard once in a Black & White season and the Sun and Moon episode "Mallow and the Forest Teacher!".)
Sound Ideas, CARTOON, BOING - SPACE BOING, HIGH
Sound Ideas, CARTOON, BOING - STRING PLUCK (Heard once in "Ash Catches a Pokemon".) 
Sound Ideas, CARTOON, BOING - THIN METAL PING AND WARBLE 01
Sound Ideas, CARTOON, BOING - THIN METAL PING AND WARBLE 02
Sound Ideas, CARTOON, HORN - BICYCLE HORN, THREE QUICK TOOTS
Sound Ideas, CARTOON, WHISTLE - FALL WHISTLE, LONG (Used every time Team Rocket gets blasted off.)
Sound Ideas, CARTOON, WHISTLE - FALL WHISTLE, SHORT
Sound Ideas, CRASH, CARTOON - BIG CAR CRASH
Sound Ideas, DOOR, WOOD - OPEN 02
Sound Ideas, FANFARE - THEME 2A: FULL MIX, MUSIC
Sound Ideas, FANFARE - THEME 6: FULL MIX, MUSIC (Heard once in "Beauty and the Beach.")
Sound Ideas, ELECTRICITY, SPARK - HIGH VOLTAGE SPARK, ELECTRICAL 01
Sound Ideas, ELECTRICITY, SPARK - HIGH VOLTAGE SPARK, ELECTRICAL 02
Sound Ideas, ELECTRICITY, SPARK - HIGH VOLTAGE SPARK, ELECTRICAL 11
Sound Ideas, HORSE - INTERIOR: WHINNY, ANIMAL 02
Sound Ideas, KETTLE, WHISTLE - BOILING, LIFT OFF HEAT, WATER
Sound Ideas, MAGIC - GLISTEN (Heard twice in "Strategy Begins at Home!")
Sound Ideas, PLUCK, CARTOON - VAROOP
Sound Ideas, RUN, CARTOON - TEMPLE BLOCK RIOT, SHORT (Heard once in "Pokemon Shipwreck" and "A Real Cleffa-Hanger".)
Sound Ideas, SKID, CARTOON - BROKEN SKID (Heard once in "Primeape Goes Bananas" and a Black & White season.)
Sound Ideas, THUNDER - THUNDER CLAP AND RUMBLE, WEATHER 01 (Series 6000)
Sound Ideas, THUNDER - THUNDER CLAP AND RUMBLE, WEATHER 02 (Series 6000)
Sound Ideas, THUNDER - THUNDER CLAP AND RUMBLE, WEATHER 04
Sound Ideas, THUNDER - THUNDER CLAP, LOTS OF CRACKLE, WEATHER
Sound Ideas, WEATHER, LIGHTNING - BOLT OF LIGHTNING STRIKES CLOSE BY, THUNDER 04
Sound Ideas, WEATHER, LIGHTNING - BOLT OF LIGHTNING STRIKES CLOSE BY, THUNDER 06
Sound Ideas, WEATHER, LIGHTNING - BOLT OF LIGHTNING STRIKES CLOSE BY, THUNDER 07
Sound Ideas, WEATHER, LIGHTNING - BOLT OF LIGHTNING STRIKES CLOSE BY, THUNDER 10
Sound Ideas, ZIP, CARTOON - BIG WHISTLE ZING OUT (Heard in two Black & White seasons only. It was last heard in "Baffling the Bouffalant!".)
Image Gallery
Audio Samples
External Links