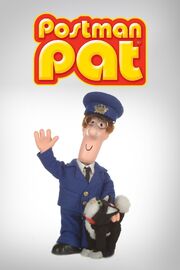 Postman Pat is a British stop-motion animated children's television series first produced by Woodland Animations.
Contents
Storyline
TV Show Intro
Sound Effects Used
Image Gallery
Audio Samples
Also See
External Links
Storyline
It is aimed at pre-school children, in the fictional village of Greendale (inspired by the real valley of Longsleddale near Kendal) and the nearby town of Pencaster, on the border between Cumbria and North Yorkshire.
Each episode follows the adventures of Pat Clifton, a friendly country postman, and his "black and white cat" Jess, as he delivers the post through the valley of Greendale. Although he initially concentrates on delivering his letters, he nearly always becomes distracted by a concern of one of the villagers and is usually relied upon to resolve their problems. Notable villagers include the postmistress, Mrs Goggins; Alf Thompson, the farmer; and the local handyman and inventor, Ted Glen.
Greendale is a large, busy village situated in the heart of the Cumbrian countryside. Running through the centre of the village is the High Street, home to Mrs Goggins' Post Office and shop, an unofficial meeting house for the residents. Located on the edge of the village is the railway station, home to the Greendale Rocket. Nisha Bains runs a popular café there with Sara while her husband Ajay runs a regular schedule on the Greendale Rocket to the nearby town of Pencaster.
Pencaster is a large, bustling, modern town located within easy commuting distance for the villagers of Greendale. Situated on the waterfront, Pencaster is a hive of activity, boasting a market square in the centre surrounded by shops, houses, a large railway station, state-of-the-art buildings and a boat jetty. It bears some resemblance to Lancaster, the county town of Lancashire, which likewise is a short commute from Longsleddale, this village that was used as the inspiration for Greendale.
TV Show Intro
Sound Effects Used
Hollywoodedge, Air Brake Hiss Truck PE079201

(Heard once in "Postman Pat and the Runaway Train.")
Hollywoodedge, Baby Crying Slowly PE144001 (Heard often in "Postman Pat and the Green Rabbit.")
Hollywoodedge, Baby Laughs VariousS PE144601 (Heard often in "Postman Pat and the Green Rabbit.")
Hollywoodedge, Baby Whines Cries Huf PE145601 (Heard often in "Postman Pat and the Green Rabbit.")

HollywoodEdge (Europe Edition), Roland UK - Birds Chirping

HollywoodEdge (Europe Edition), Roland UK - Children Laughing

(The Diddy Laugh)

HollywoodEdge (Europe Edition), Roland UK - Rooster Crowing 1

Hollywoodedge, Metal Creaks Machine FS015801 (Heard only in season 3 every time the Greendale Flyer stops.)
Hollywoodedge, Single Cow Moo CRT011601 (Heard several times in a high pitch in "Postman Pat and the Cranky Cows.")

Sound Ideas, AUTO, CRASH - CRASHES AND ROLLS DOWN EMBANKMENT

(Heard once in "Pat Goes Sledging.")

Sound Ideas, BIRD, BLUEBIRD - BLUEBIRD CHIRPS, ANIMAL
Image Gallery
Audio Samples
Also See
External Links