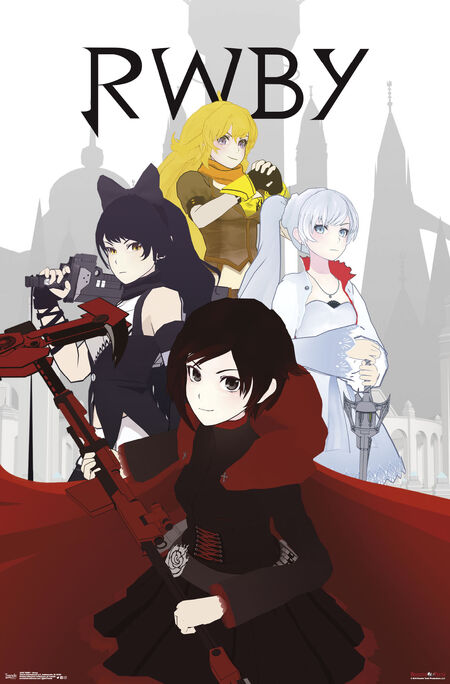 RWBY (pronounced "ruby") is a RoosterTeeth CGI action web series created by Monty Oum. It is heavily based off of anime and released on July 18, 2013.
Storyline
In the supernatural world of Remnant, four strong girls are training to become Huntresses, which are humanity's only hope of defeating the shadowy and threatening creatures known as Grimm.
Air Date
July 18, 2013 – present
Also See
Sound Effects Used
The series mainly uses anime, Premiere Edition Volume 1, and Series 6000 sound effects. It also uses a few sounds from other libraries.
Anime Bamboo Sound

Anime Beep Sound 6

Anime Beep Sound 7

Anime Beep Sound 8

Anime Beep Sound 9

Anime Beep Sound 10

Anime Beep Sound 11

Anime Beep Sound 12

Anime Beep Sound 13

Anime Beep Sound 14

Anime Bell Tree Gliss Up Sound

Anime Burp Sound

Anime Crow Caw Sound 2

Anime Door Close Sound 11

Anime Door Sliding Sound 23

Anime Door Sliding Sound 24

Anime Electronic Sound 43

Anime Gong Sound 3

Anime Metal Squeak Sound 1

Anime Metal Squeak Sound 2

Anime Pop Sound 13

Anime Pop Sound 14

Anime Pop Sound 15

Anime Pop Sound 18

Anime Pop Sound 19

Anime Pop Sound 20

Anime Rubbing Sound

Anime Slap Sound

Anime Splat Sound 2

Anime Splat Sound 3

Anime Stomach Growl Sound 10

Anime Swish Sound 21

Anime Swish Sound 22

Anime Swish Sound 23

Anime Swish Sound 24

Anime Swish Sound 25

Anime Swish Sound 26

Anime Swish Sound 27

Anime Swish Sound 28

Anime Swish Sound 29

Anime Swish Sound 30

Anime Swish Sound 31

Anime Swish Sound 32

Anime Swish Sound 33

Anime Swish Sound 34

Anime Swish Sound 35

Anime Swish Sound 36

Anime Swish Sound 37

Anime Swish Sound 38

Anime Swish Sound 43

Anime Twirling Whoosh Sound 4

Anime Violin Slide Sound

Anime Whistle Sound 5

Anime Whoosh Sound 9

Anime Whoosh Sound 10

Anime Whoosh Sound 11

Anime Whoosh Sound 12

Anime Whoosh Sound 13

Anime Whoosh Sound 14

Anime Wind Sound 9

Anime Wind Sound 10

Door Sound

Explosion Sound

H-B BOING, CARTOON - SHORT, SMALL BOING

H-B ZIP, CARTOON - LONG RICCO ZIP IN 09

Hollywoodedge, 22 Caliber Pistol Sho PE092501

Hollywoodedge, 357 Magnum Pistol Sho PE092801/

Hollywoodedge, 22357 Magnum Fire Clo TE029501

(2nd shot)

Hollywoodedge, Bells Desk Bell SS021003

(High Pitched)

Hollywoodedge, Bird Canary SingingC PE020201

Hollywoodedge, Bird North AmericanF PE021701

Hollywoodedge, Bird Wing Flaps Singl FS058701

Hollywoodedge, Bird Wren Singing Clo PE022101

Hollywoodedge, Bone Breaks Blood Com FS044104

Hollywoodedge, Bottle Rocket 3 Picco PE098601

Hollywoodedge, Bull Whip Crack 1 Swis PE108701

(Swish only)

Hollywoodedge, Bull Whip Crack 4 Sing PE109001

(Swish only) (High Pitched)

Hollywoodedge, Bullet Bounces Off Fr PE115001

Hollywoodedge, Bullet Impacts Metal FS013301

(High Pitched)

Hollywoodedge, Bullet Ricochet OffD PE097201

Hollywoodedge, Bullet Ricochet OffH PE096801

Hollywoodedge, Bullet Ricochet OffH PE097101

Hollywoodedge, Bullet Ricochet OffH PE097301

Hollywoodedge, Bullet Ricochet OffM PE096501

Hollywoodedge, Bullet Ricochet OffR PE096701

Hollywoodedge, Bullet Ricochet OffW PE096601

Hollywoodedge, Car Crash Small 1 Shor PE111901

Hollywoodedge, Cats Two Meowing Clos PE022401

(1st meow)

Hollywoodedge, Chin Punch FS040401

Hollywoodedge, Crash Car Flip Imp Rol PE111501

Hollywoodedge, Crash Metal Shatter PE110101

Hollywoodedge, Crash Train Car Mix PE111601

Hollywoodedge, Desk Top Clock Ticks PE179501

(Slowed down)

Hollywoodedge, Door Oc 1 SS018101

(Close sound)

Hollywoodedge, Doppler Car Horn By Ap PE077401

Hollywoodedge, Doppler Car Horn By Ap PE077501/

Hollywoodedge, Doppler Horn By Mediu CT052801

Hollywoodedge, Dry Skids Long Squeal PE297001

Hollywoodedge, Electricity Arcing 3 PE200301

Hollywoodedge, Explosion Large OilO PE097401

Hollywoodedge, Fire Medium Wood Roar PE052001

Hollywoodedge, Forest Ambience Bird PE010101

Hollywoodedge, Glass Breaks Medium FS024806

Hollywoodedge, Glass Crashes Large W TE023101

Hollywoodedge, Gun Classic Pistol Co PE090601

Hollywoodedge, Gusts Heavy Cold Wind PE031601/

Hollywoodedge, Whistling Wind Stead PE033301

Hollywoodedge, Gusts Heavy Wind Leaf PE031701

Hollywoodedge, Heavy Punch FS040102

Hollywoodedge, Large Crowd Boos PE141901

Hollywoodedge, Large Explosion With Lon PE280201

Hollywoodedge, Large Shatter Window PE283603

Hollywoodedge, Low Thud Punch FS040201

Hollywoodedge, Low Thud Punch FS040209

Hollywoodedge, Medium Explosion With Fi PE280301

Hollywoodedge, Metallic Clicks Rap CRT038103

Hollywoodedge, Night Ambience Larg PE011901

Hollywoodedge, Night Rural Crickets BT021701

Hollywoodedge, Object Being Squashe PE105201

Hollywoodedge, Plucked Tones Comput LB020404

Hollywoodedge, Punch Face Hit 2 Sharp PE100201

Hollywoodedge, Reverse Ricochet 4 Tw PE207801

(1st ricochet) (Slightly Low Pitched)
Hollywoodedge, Screams 7 Woman Three PE134101 (1st scream)
Hollywoodedge, Seagulls Surf BT022001 or Sound Ideas, BIRD, SEAGULL - SEAGULL AND SURF, ANIMAL, WATER, OCEAN, SEASHORE, WAVES

Hollywoodedge, Single Camera Clicks TE020505

(High Pitched)

Hollywoodedge, Single Cricket Spora PE012001

Hollywoodedge, Single Sword Hit 3 Hig PE102701

Hollywoodedge, Small Swishes Light FS048104

/

Sound Ideas, SWISH - ARM OR WEAPON SWING THROUGH AIR, SWOOSH 01

Hollywoodedge, Swish Small Glass Cra PE112801

Hollywoodedge, Sword Shing With Sword PE103401

Hollywoodedge, Sword Shing With Sword PE103601

Hollywoodedge, Sword Twang 1 Sword Pl PE103701 (High Pitched)

Hollywoodedge, Truck Air Horn Low Pit TE048002

Hollywoodedge, Whistles Multiple Sh PE164001

(3rd whistle) (High Pitched)

Hollywoodedge, Whistling Wind Mediu PE032901

/

Hollywoodedge, Wind Cold Whistle BT022801

Hollywoodedge, Wolf Howl Single Echo AT028701

Hollywoodedge, Wood Crash Large PE113501

Hollywoodedge, Wood Door OC Bounce PE180501 (Open sound)
Hollywoodedge, Wood Door OCKnob PE180101 (Close sound)

Hollywoodedge, Wood Door OCSqueak PE180401

Miscellaneous Anime Sound 99

Miscellaneous Anime Sound 100

Miscellaneous Anime Sound 101

Miscellaneous Anime Sound 102

Miscellaneous Anime Sound 118

RICOCHET - CARTOON RICCO 20

Sound Ideas, APPLAUSE - LARGE CROWD: INDOOR 01

Sound Ideas, APPLAUSE - SMALL CROWD: OUTDOOR 02

Sound Ideas, APPLAUSE, CHEERING - LARGE CROWD: OUTDOOR, CHEERS & WHISTLING, BASEBALL, STADIUM 02

Sound Ideas, APPLAUSE, CHEERING - LARGE OUTDOOR STADIUM CROWD: HEAVY APPLAUSE AND CHEERING 02

Sound Ideas, BEEPS, BONKS & BOINKS - SINGLE TWO TONE BEEP

Sound Ideas, BIRD, LOON - SINGLE LOON: WARBLE CALLS, ANIMAL 01

Sound Ideas, BIRD, LOON - SINGLE LOON: WARBLE CALLS, ANIMAL 02

Sound Ideas, CARTOON, BOING - FLAPPING SPRONG 02

Sound Ideas, CARTOON, BOING - FLAPPING SPRONG 03

Sound Ideas, CARTOON, BOING - POING 01

Sound Ideas, CARTOON, BOING - SMALL DRUM BOING, PERCUSSION, MUSIC, DRUMS

Sound Ideas, CARTOON, BONK - HOLLOW WOOD BONK 03

Sound Ideas, CARTOON, BONK - WOOD BONK 04

Sound Ideas, CARTOON, BONK - WOOD BONK 06

Sound Ideas, CARTOON, DIT - SMALL SMACK 02

Sound Ideas, CARTOON, DIT - SMALL SMACK 03

Sound Ideas, CARTOON, POP - SMALL POP 03

Sound Ideas, CARTOON, ZIP - MEDIUM 03

Sound Ideas, CLOCK, STOPWATCH - RUNNING

Sound Ideas, DOG, POMERANIAN - SMALL DOG, BARKING, ANIMAL (High Pitched)

Sound Ideas, ELECTRICITY - HIGH ARCING AND SPARKING, ELECTRICAL

Sound Ideas, ELECTRICITY, SPARK - HIGH VOLTAGE SPARK, ELECTRICAL 03

Sound Ideas, ELECTRICITY, SPARK - HIGH VOLTAGE SPARK, ELECTRICAL 04

Sound Ideas, ELECTRICITY, SPARK - HIGH VOLTAGE SPARK, ELECTRICAL 05

Sound Ideas, ELECTRICITY, SPARK - HIGH VOLTAGE SPARK, ELECTRICAL 06

Sound Ideas, ELECTRICITY, SPARK - HIGH VOLTAGE SPARK, ELECTRICAL 07

Sound Ideas, ELECTRICITY, SPARK - HIGH VOLTAGE SPARK, ELECTRICAL 08

Sound Ideas, ELECTRICITY, SPARK - HIGH VOLTAGE SPARK, ELECTRICAL 13

Sound Ideas, ELECTRICITY, SPARK - HIGH VOLTAGE SPARK, VERY LARGE, ELECTRICAL

Sound Ideas, ELECTRICITY, SPARK - HIGH VOLTAGE SPARKS, CONTINUOUS ARCING, ELECTRICAL 03

Sound Ideas, EXPLOSION - LARGE EXPLOSION 02

Sound Ideas, EXPLOSION - MEDIUM EXPLOSION 01

Sound Ideas, EXPLOSION, LARGE - LARGE BLAST

Sound Ideas, FOOTSTEPS, CONCRETE - FEMALE HEELS: RUNNING

Sound Ideas, FOOTSTEPS, CONCRETE - FEMALE HEELS: WALK

Sound Ideas, FOOTSTEPS, SNOW - MALE: WALK

Sound Ideas, GUN, RICOCHET - RICOCHET: SINGLE SHOT, BULLET 01

Sound Ideas, GUN, RICOCHET - RICOCHET: SINGLE SHOT, BULLET 02

Sound Ideas, GUN, RICOCHET - RICOCHET: SINGLE SHOT, BULLET 03

Sound Ideas, GUN, RICOCHET - RICOCHET: SINGLE SHOT, BULLET 04

Sound Ideas, GUN, RICOCHET - RICOCHET: SINGLE SHOT, BULLET 07

Sound Ideas, GUN, RICOCHET - RICOCHET: SINGLE SHOT, BULLET 08

Sound Ideas, HUMAN, BABY - CRYING (High Pitched)

Sound Ideas, HUMAN, CRACK - KNUCKLES: FAST CRACKING

Sound Ideas, KETTLE, WHISTLE - BOILING, LIFT OFF HEAT, WATER

Sound Ideas, PUNCH, FACE - ARM SWING AND JAW SOCK, HUMAN 02

Sound Ideas, ROCK, WATER - ROCK: SPLASH INTO WATER 03

Sound Ideas, SPACE, SHIP - SPACE SHIP INTERIOR 01

Sound Ideas, SWORD - TWO SWORDS SCRAPING 01

Sound Ideas, SWORD - TWO SWORDS SCRAPING 02

Sound Ideas, SWORD - TWO SWORDS SCRAPING 04

Sound Ideas, SWORD - TWO SWORDS SCRAPING 06

(High Pitched)

Sound Ideas, SWORD - TWO SWORDS SCRAPING, RING OFF 01

Sound Ideas, TELEMETRY - COMPUTER TELEMETRY: FUNCTION BEEP, SCI FI, ELECTRONIC 03

Sound Ideas, TELEMETRY - COMPUTER TELEMETRY: FUNCTION BEEP, SCI FI, ELECTRONIC 07

/

Sound Ideas, TELEMETRY - SHORT ELECTRONIC COMPUTER FUNCTION BEEP 25

Sound Ideas, TELEMETRY - COMPUTER TELEMETRY: FUNCTION BEEP, SCI FI, ELECTRONIC 09

/

Sound Ideas, TELEMETRY - SHORT ELECTRONIC COMPUTER FUNCTION BEEP 26

Sound Ideas, TELEMETRY - SHORT ELECTRONIC COMPUTER FUNCTION BEEP 02

Sound Ideas, THUNDER - THUNDER CLAP AND RUMBLE, WEATHER 01

Sound Ideas, THUNDER - THUNDER CLAP AND RUMBLE, WEATHER 02

Sound Ideas, TRAIN, HORN - DIESEL LOCOMOTIVE ENGINE: SOUND HORN, LONG

Sound Ideas, WEATHER, LIGHTNING - BOLT OF LIGHTNING STRIKES CLOSE BY, THUNDER 01

Sound Ideas, WEATHER, LIGHTNING - BOLT OF LIGHTNING STRIKES CLOSE BY, THUNDER 03

Sound Ideas, WEATHER, LIGHTNING - BOLT OF LIGHTNING STRIKES CLOSE BY, THUNDER 10

SoundDogs, Sci, Fi, Alarm, Warning, Signal, Loop, Science, Fiction

Super Smash Bros. Super Scope Sound
Image Gallery
RWBY/Image Gallery
Audio Samples
File:RWBY Hollywoodedge, Bells Desk Bell SS021003 (High Pitched).ogg (The high pitched version of Bells Desk Bell SS021003, as heard in the show.) File:RWBY Sound Ideas, TELEMETRY - COMPUTER TELEMETRY - FUNCTION BEEP, SCI FI, ELECTRONIC 07 or Sound Ideas, TELEMETRY - SHORT ELECTRONIC COMPUTER FUNCTION BEEP 25.ogg (TELEMETRY - COMPUTER TELEMETRY - FUNCTION BEEP, SCI FI, ELECTRONIC 07/TELEMETRY - SHORT ELECTRONIC COMPUTER FUNCTION BEEP 25, as heard in the show.) File:RWBY Sound Ideas, THUMP, CARTOON - TUBE THUNK 01.ogg (THUMP, CARTOON - TUBE THUNK 01, as heard in the show.)
External Links