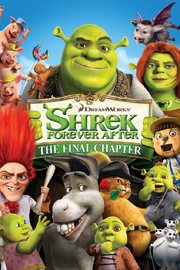 Contents
Storyline
Also See
Movie Trailer
Sound Effects Used
Image Gallery
Audio Samples
External links
Storyline
A bored and domesticated Shrek pacts with deal-maker Rumpelstiltskin to get back to feeling like a real ogre again, but when he's duped and sent to a twisted version of Far Far Away -- where Rumpelstiltskin is king, ogres are hunted, and he and Fiona have never met -- he sets out to restore his world and reclaim his true love.
Also See
Shrek Forever After (2010) (Trailers)
Movie Trailer
Sound Effects Used
Hollywoodedge, Cats Fighting Loud Sc PE917007/Hollywoodedge, Cats Two Angry YowlsD PE022601/Two Cats Screeching And Moaning (Heard twice, here are 4 scenes of the movie:)

4th yowl when a cat has startled by Shrek roaring during the song "Top of the World" by the Carpenters.
2nd yowl when Puss in Boots got startled by Donkey.
A different version of the yowl when Donkey pulls away Puss when the ogres fall down.
4th yowl again during the final battle scene when Puss swings over Dragoness' tail and flies towards the camera.

Hollywoodedge, Crowd Reaction Shock PE142501 (Heard once near the end.)
Hollywoodedge, Horses 1 High Pitched TE016301/Hollywoodedge, Horses Several Whinn PE025201 (5th whinny)/Hollywoodedge, Horse Whinnies Group AT045501 (5th whinny)
Hollywoodedge, Lightning 08 CloseG SIG012601 (Heard once at the beginning.)
Sound Ideas, HUMAN, BABY - CRYING (2nd half heard once around the beginning. For so far, the previous sequel and this movie are the only two DreamWorks Animation movies to use this sound effect.)
Image Gallery
Audio Samples
External links
Community content is available under
CC-BY-SA
unless otherwise noted.