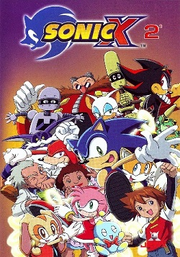 Storyline
A slight malfunction causes Chaos Control, and sends Sonic the Hedgehog to Earth. While there, Sonic meets Chris Thorndyke, who aids at collecting the Chaos Emeralds, so Sonic and friends can go home.
Air Date
August 23, 2003 - May 6, 2006
TV Show Intro
Sound Effects Used
This show mostly uses sounds from The General Series 6000 Sound Effects Library, The Premiere Edition Volume 1, The Premiere Edition Volume 2, The Edge Edition Volume 1, Hanna-Barbera Sound Effects Library, Series 8000 Science Fiction Sound Effects Library, some from Patricio Libenson Explosions for the 21st Century, and a few from Foley Sound Library, Dynamic Range Sound Effects Library - CDs 1 & 2, and anime sounds.
Image Gallery
Sonic X/Image Gallery/Japanese
Audio Samples
External Links