This sound effect can be found on The General Series 6000 Sound Effects Library, which was made by Sound Ideas.
First recorded: Early 1990s
Creator: N/A
Owner: Sound Ideas (1991-present)
Origin: United States Canada
Year debut: Between October 22, 1991 and March 23, 1993
First heard: Either God Bless The Child (a Law & Order episode) or the Stolen Babies TV Commercial
Area used: Worldwide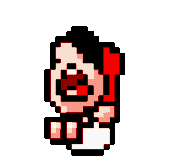 This is one of many sounds that TV Tropes collectively refers to as "Most Annoying Sound". The page itself even has a picture of Baby Mario in a bubble crying, due to it being heavily used in the Super Nintendo game Super Mario World 2: Yoshi's Island. It is still being used as of today, among other baby crying sounds.
Clean, Full Length and Unedited Link to the Sound Effect
Edit
TV Specials
Edit
Commercials
Edit
Germany:
New Zealand:
Poland:
UK:
USA:
Video Games
Edit
Leapster:
PC:
Sony PlayStation:
SNES:
Nintendo DS:
Wii U:
Policy Trailers
Edit
Miscellaneous
Edit
Online Videos
Edit
Audio Samples
Edit
Community content is available under
CC-BY-SA
unless otherwise noted.