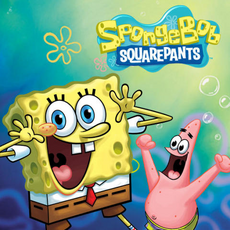 SpongeBob SquarePants is a Nickelodeon Production created by Stephen Hillenburg.
From "Reef Blower" (Episode 2) onward, Jeff Hutchins serves as the series' sound effects designer & editor; Tom Syslo may've been the uncredited sound designer of the pilot "Help Wanted", according to Roy Braverman; Jeff edited sound fx on the pilot too.
The sound services began with Horta Editorial & Sound (uncredited), working with Timothy J. Borquez's team there and at Pacifica Sound Group and Hacienda Post. During Season 5, Jeff Hutchins and the sound services moved on to Oracle Post; in 2012 they relocated to Atlas Oceanic Sound and Picture, which also recorded dialogue for The SpongeBob Movie: Sponge Out of Water (2015). In 2019, Jeff and the Atlas Oceanic/Oracle sound team moved to Sound Rebels.
Storyline
TV Show Intro
Also See
The SpongeBob Movie: Sponge on the Run (2020)

SpongeBob SquarePants: Atlantis SquarePantis (2007)

SpongeBob SquarePants: Truth or Square (2009)

It's A SpongeBob's Christmas (2012)
Sound Effects Used
Other Audio Used
APM MUSIC

Bruton Music

Capitol Hi-Q Music

DICK DE BENEDICTIS MUSIC

(Evil Mind 3 is Used Frequently)

GALA PERFORMANCE

Gerhard Trede

HIGHWAY 15

MIDNIGHT SERENADE

Kosinus Music

KPM Music

NFL Music

(Hit and Run is heard once.)

Selected Sound

SHOPPING SPREE (Heard once in "Boat Smarts", "Friend or Foe" and "Mr. Krabs Takes a Vacation".)

Sonoton Music

TOYS FOR BOYS

(Heard once in "The Thing".)

TRAFFICSCAPE

(Heard once in "Atlantis SquarePantis" and "Driven to Tears".)

WORKADAY WORLD

(Heard once in "The Krabby Kronicle." and "Model Sponge".)-
TARZAN YELL (Used for Spongebob is Heard once in "Every episode from Season 1 11 and 12" and Heard once in "The Alage's Always Greener" "Enemy in Law" "Little Yellow Book" and "Trident Trouble".)
Image Gallery
Audio Samples
External Links