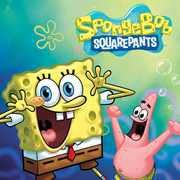 Spongebob Squarepants is a Nickelodeon Production created by Stephen Hillenburg.
From "Reef Blower" (Episode 2) onward, Jeff Hutchins serves as the series' sound effects designer & editor; Tom Syslo may've been the uncredited sound designer of the pilot "Help Wanted", according to Roy Braverman; Jeff edited sound fx on the pilot too.
The sound services began with Horta Editorial & Sound (uncredited), working with Timothy J. Borquez's team there and at Pacifica Sound Group and Hacienda Post. During Season 5, Jeff Hutchins and the sound services moved on to Oracle Post, and in 2012 relocated to Atlas Oceanic Sound and Picture, the series' current post-production sound service; Atlas Oceanic also recorded dialogue for The SpongeBob Movie: Sponge Out of Water (2015).
Storyline
TV Show Intro
Sound Effects Used
See SpongeBob SquarePants/Sound Effects Used/Alphabetically
Image Gallery
See Spongebob SquarePants/64 Zoo Lane
See SpongeBob SquarePants/Image Gallery
List by Episode
See SpongeBob SquarePants/Sound Effects List by Episode
Audio Samples
External Links
Also See