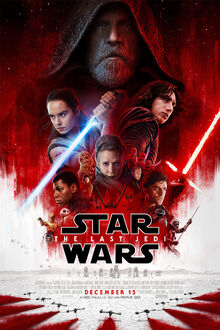 Star Wars: The Last Jedi (also known as Star Wars: Episode VIII – The Last Jedi) is a 2017 American epic space-opera film written and directed by Rian Johnson. It is the second installment of the Star Wars sequel trilogy, following The Force Awakens (2015), and the eighth episode of the nine-part "Skywalker Saga". It was produced by Lucasfilm and distributed by Walt Disney Studios Motion Pictures. The film's ensemble cast includes Mark Hamill, Carrie Fisher, Adam Driver, Daisy Ridley, John Boyega, Oscar Isaac, Andy Serkis, Lupita Nyong'o, Domhnall Gleeson, Anthony Daniels, Gwendoline Christie, and Frank Oz in returning roles, with Kelly Marie Tran, Laura Dern and Benicio del Toro joining the cast. It features the first posthumous film performance by Fisher, who died in December 2016, and the film is dedicated to her memory.
The Last Jedi follows Rey as she receives Jedi training from Luke Skywalker, in hopes of turning the tide for the Resistance in the fight against Kylo Ren and the First Order, while General Leia Organa, Finn, and Poe Dameron attempt to escape a First Order attack on the dwindling Resistance fleet. The Last Jedi is part of a new trilogy of films announced after Disney's acquisition of Lucasfilm in October 2012. It was produced by Lucasfilm president Kathleen Kennedy and Ram Bergman, and executive produced by The Force Awakens director J. J. Abrams. John Williams, composer for the previous episodic films, returned to compose the score. A number of scenes were filmed at Skellig Michael in Ireland during pre-production in September 2015, but principal photography began at Pinewood Studios in England in February 2016, and wrapped in July 2016. Post-production was finished in September 2017.
The Last Jedi had its world premiere at the Shrine Auditorium in Los Angeles on December 9, 2017, and was released in the United States on December 15, 2017. It grossed over $1.3 billion worldwide, becoming the highest-grossing film of 2017, the seventh-highest-ever grossing film in North America and the ninth-highest-grossing film of all time during its theatrical run. It is also the second-highest-grossing Star Wars film, and turned a net profit of over $417 million. The film received positive reviews, with praise for its ensemble cast, musical score, visual effects, action sequences and emotional weight. The film received four nominations at the 90th Academy Awards, including Best Original Score and Best Visual Effects, as well as two nominations at the 71st British Academy Film Awards. A sequel, titled The Rise of Skywalker, was released on December 20, 2019.
Skywalker Sound provided post-production sound services: Ren Klyce, with Sound Design Assistant Steve Orlando, took the place of Ben Burtt as Sound Designer and Supervising Sound Editor. Ronni Brown & Margie O'Malley did foley, supervised by Frank Rinella. Assistant Supervising Sound Editor and uncredited Sound Effects Editor Coya Elliott served as an uncredited sound effects recordist, and Nicholas Docter was an uncredited Sound Intern who provided turkey calls used for the porgs.
Sound Effects Used
Hollywoodedge, Electricity Arcing 3 PE200301
Hollywoodedge, Lion Roar Snarl Growl AT013501 (Used to accent fire as the Resistance's medical frigate begins to explode.)
Looney Tunes Cartoon Fall Sound (Variants designed for Vulture Droid missiles used for Paige's bomb payload.)
SKYWALKER, CRUNCH - CRUNCHING CHOKE
SKYWALKER EXPLOSION 01
SKYWALKER EXPLOSION 03
SKYWALKER EXPLOSION 07
SKYWALKER, EXPLOSION - BIG CRUNCH
SKYWALKER, EXPLOSION - NEARBY HEAVY EXPLOSION (Used for the gate's explosion from the battering ram cannon.)
SKYWALKER LIGHTSABER SOUND
SKYWALKER, METAL - BIG CLANK WITH SQUEAL (Heard once in a low pitch)
SKYWALKER, SCI-FI GUN - TIE FIGHTER GUN
SKYWALKER, SCI-FI GUN - X-WING FIGHTER GUN
SKYWALKER, WHOOSH - ARTILLERY FALL 01 (Heard in a very high pitch and reversed with Lion Roar Snarl Growl AT013501.)
Sound Ideas, ELECTRICITY, SPARK - HIGH VOLTAGE SPARK, ELECTRICAL 01 (Used to accent explosions.)
Sound Ideas, ELECTRICITY, SPARK - HIGH VOLTAGE SPARK, ELECTRICAL 02
Sound Ideas, FIRE, BALL - IMPACT AND LARGE FIRE BURST, RUMBLE (Used in +12 pitch to accent fire as the Resistance's medical frigate begins to explode.)
Image Gallery