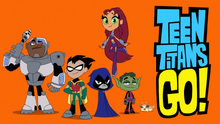 Description
Sporting a new animation style, Teen Titans Go! serves as a comedic spin-off with no continuity to the previous series or any other media in the DC Comics franchise. Many DC characters make cameo appearances and are referenced in the background. The original principal voice cast returns to reprise their respective roles. This series lampoons what the Titans do when they are not saving the world.
The Post Production Audio Services are provided by Atlas Oceanic Sound and Picture. No post-production sound creative is credited (typical with most Warner Bros. Animation projects these days), but Rob McIntyre is the series' Sound Designer, Sound Supervisor, Supervising Sound Editor and Re-recording Mixer; Sound Effects Editor Evan Dockter also serves as a Supervising Sound Editor on some episodes.
Sound Effects Used
Other Audio Used
Beast Boy Laughing
Beast Boy Screaming
Cyborg Laughing
Cyborg Screaming
Robin Laughing
Robin Screaming
Raven Laughing
Raven Screaming
Starfire Laughing
Starfire Screaming
Image Gallery
Audio Samples
Community content is available under
CC-BY-SA
unless otherwise noted.