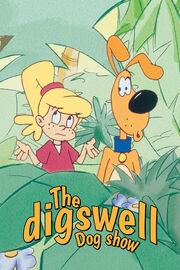 The Digswell Dog Show is an Australian animated series produced by Energee Entertainment in 1998. The show featured a girl named Daisy and her dog that's named Digswell. He is named Digswell because he is very good at digging. Each episode had 2 shorts in one episode that ran for 24 minutes.
Contents
1 Storyline
2 Sound Effects Used
3 Image Gallery
4 Audio Samples
Storyline
Sound Effects Used
This show heavily use Hanna-Barbera sound effects.
Sound Ideas, BIRDS, VARIOUS - LIGHT CHIRPING, ANIMAL

(Heard once in "Meeting Miss Daisy".)
Sound Ideas, BLINK, CARTOON - XYLO EYE BLINKS (Heard once in "Digswell Downunder".)
Sound Ideas, BOING, CARTOON - GOOD SPRONG 02 (Heard once in "Kung Pooch".)
Sound Ideas, BOING, CARTOON - SINGLE TIMP DOING (Heard once in "Digswell Downunder".)
Sound Ideas, BOINK, CARTOON - BOINK 01 (Heard once in "Meeting Miss Daisy".)

Sound Ideas, BOUNCE, CARTOON - TIMP BOUNCE, SLOW

(Heard once in "Kung Pooch".)
Sound Ideas, HEAD SHAKE, CARTOON - PINGY HEAD SHAKE (Heard once in "Digswell Downunder".)
Sound Ideas, HIT, CARTOON - HEAVY TIMP RISE (Heard once in "Digswell Downunder".)
Sound Ideas, PLINK, CARTOON - SOUR PLINK (Heard once in "Digswell Downunder".)
Sound Ideas, POP, CARTOON - SQUISH POP (Heard once in "Digswell Downunder".)

Sound Ideas, RUN, CARTOON - BLOP GALLOP, LONG

Sound Ideas, RUN, CARTOON - WIND WHISTLE SCAT (Heard once in "Digswell Downunder".)

Sound Ideas, SLIDE, CARTOON - FIDDLE SLIDE AND QUICK RUN UP

(Heard once in "Digswell Downunder".)

Sound Ideas, SLIDE, CARTOON - FIDDLE SLIDE UP 01

(Heard once in "Digswell Downunder".)

Sound Ideas, SLIDE, CARTOON - FIDDLE SLIDE UP, SHORT 02

(Heard once in "Digswell Downunder".)

Sound Ideas, SPIN, CARTOON - DAVE'S WIND WHISTLE SPIN

(Heard once in "Kung Pooch".)
Sound Ideas, SQUEEZE, CARTOON - HOYT'S SQUEAKY SQUEEZE (Heard once in "Digswell Downunder".)

Sound Ideas, TAKE, CARTOON - SILLY SPRINGY TAKE

(Heard once in "Digswell Downunder".)

Sound Ideas, TWANG, CARTOON - HOYT'S BOW TWANG

(Heard once in "Meeting Miss Daisy".)

Sound Ideas, TWIRL, CARTOON - FRISBEE TWIRL, CONSTANT

(Heard once in "Digswell the Hero".)

Sound Ideas, ZIP, CARTOON - QUICK FIDDLE ZIP DOWN

(Heard once in "Digswell the Hero".)

Sound Ideas, ZIP, CARTOON - QUICK FIDDLE ZIP UP

(Heard once in "Digswell Downunder".)

Sound Ideas, ZIP, CARTOON - QUICK FIDDLE ZIP UP, HIGH

(Heard once in "Digswell the Hero".)

Sound Ideas, ZIP, CARTOON - QUICK SLIDE WHISTLE ZIP DOWN

(Heard once in "Kung Pooch".)

Sound Ideas, ZIP, CARTOON - QUICK SLIDE WHISTLE ZIP UP

(Heard once in "Digswell Downunder".)
Sound Ideas, ZIP, CARTOON - QUICK WHISTLE ZIP IN (Heard twice in the intro.)
Sound Ideas, ZIP, CARTOON - ZURUP (Heard once in "Kung Pooch".)
Image Gallery
The Digswell Dog Show/Image Gallery
Audio Samples