Storyline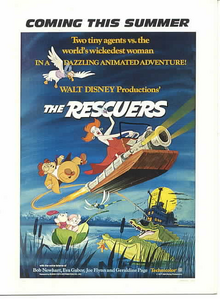 When a bottle containing a plea for help from a little girl named Penny makes its way to the Rescue Aid Society, a mouse organization in the basement of the United Nations building dedicated to the rescue and well-being of anyone in need, it is up to the brave mouse Miss Bianca and her chosen partner, the shy janitor Bernard, to rescue the girl. Searching for clues at Penny's home at Morningside Orphanage in New York City, the two mice discover that the girl has been kidnapped by the evil pawn shop owner Madame Medusa and her companion Mr. Snoops. On the back of Orville the albatross, Miss Bianca and Bernard travel to the terrifyingly gloomy Devil's Bayou where they learn the shocking truth: the innocent young girl is being forced down into a dangerous, dark underground pirate's cave where she must find the Devil's Eye, the world's largest diamond and Madame Medusa's greatest obsession. Before returning safely home, Miss Bianca, Bernard, and Penny will have to combat Madame Medusa's two ferocious pet alligators Brutus and Nero with the help of Ellie Mae and Evinrude the dragonfly, as well as survive the raging tides inside the horrible pirate's cave.
Also See
The Rescuers Down Under (1990)
Movie Trailer
The Rescuers (1977) (Trailers)
Sound Effects Used
Image Gallery
The Rescuers (1977)/Image Gallery
Audio Samples
External Links
Community content is available under
CC-BY-SA
unless otherwise noted.