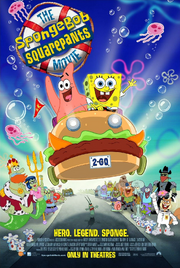 The SpongeBob SquarePants Movie is a 2004 American live-action animated comedy film based on the Nickelodeon animated television series SpongeBob SquarePants. It is the first film in the SpongeBob SquarePants film series.
Contents
Storyline
Also See
Movie Trailer
Sound Effects Used
Image Gallery
Audio Samples
External Links
Storyline
There's trouble brewing in Bikini Bottom. Someone has stolen King Neptune's crown, and it looks like Mr. Krabs, SpongeBob's boss, is the culprit. Though he has just been passed over for the promotion of his dreams, SpongeBob stands by his boss, and along with his best pal Patrick, set out on a treacherous mission to Shell City to reclaim the crown and save Mr. Krabs' life.
Also See
Movie Trailer
Sound Effects Used
Cartoon Network Cartoon Fall Sound/Hollywoodedge, Sky Rocket Loud High TE021701 (Heard while Spongebob and Patrick are falling in the trench after Mindy says "I never said that!")
HOMER'S BURP (Heard twice from Spongebob.)
Hollywoodedge, Big Single Gulps For CRT026802 (3rd gulp heard once from Spongebob.)
Hollywoodedge, Single Classic Wolf CRT012501/Sound Ideas, COYOTE - LONG HOWL, ANIMAL (Heard once as the camera pans through the monster-infested trench.)
Hollywoodedge, Wooden Blck Hits Raz CRT019402 (Used for Mr. Krab's footsteps.)
MICROPHONE FEEDBACK (Heard twice.)
Producer's Sound Effects Library "LIGHT BEAM #2." (Heard when King Neptune's baldness is revealed.)
Sound Ideas, AIRPLANE, PROP - LONG DIVE 02 (2nd half heard once in a high pitch as Spongebob and Patrick are launched downward toward the Krusty Krab.)
Sound Ideas, ANIMAL, HORSE - WHINNY AND NEIGH OUTSIDE VERSION 1/Sound Ideas, HORSE - SINGLE HORSE WHINNY, ANIMAL 01
Sound Ideas, ANIMAL, MONSTER - SEVERAL SCREAMS, CREATURE (Heard from a creature in trench.)
Sound Ideas, SPURT, CARTOON - OIL SPURT 01 (Used for Squidward's footsteps.)
Sound Ideas, SPURT, CARTOON - OIL SPURT 02 (Used for Squidward's footsteps.)
Taz Spin (Briefly heard.)
Other Audio Used
Image Gallery
See The SpongeBob SquarePants Movie (2004)/Image Gallery
Audio Samples
External Links
Community content is available under
CC-BY-SA
unless otherwise noted.