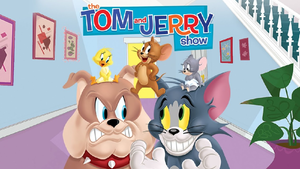 The Tom and Jerry Show is yet another Tom and Jerry TV series; this one is produced by Renegade Animation and Warner Bros. Animation/Turner Entertainment.
Advantage Audio is the main post production sound service. Rich Danhakl is the series' uncredited sound designer/sound effects editor. Composer Dan Blessinger contributed sound design for Season 2 . Amalgamated Sound and Picture and other sound services including Bang Zoom! Entertainment contributed.
Director Darrell Van Citters wanted the sound design as close to the original Tom and Jerry shorts as possible. Although classic MGM sound effects are used (namely Tom and Jerry's original vocals), due to the quality of certain classic MGM sound effects, sound designer Rich Danhakl re-created many of these sound effects at his own studio to sound as close to the original as possible. Rich also performed vocals for Tom and Jerry, namely screams.
Sound Effects Used
Edit
See The Tom and Jerry Show/Sound Effects Used/Alphabetically
Image Gallery
Edit
See The Tom and Jerry Show/Image Gallery
Audio Samples
Edit
External Links
Edit
Community content is available under
CC-BY-SA
unless otherwise noted.