The New Tom and Jerry Show, is an animated television series produced for S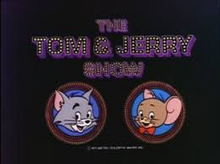 aturday mornings by Hanna-Barbera Productions in association with MGM Television in 1975 for ABC based on the theatrical shorts and characters Tom and Jerry. This series marked the first time ever that Tom and Jerry appeared in animated installments produced exclusively for television. The show was made by Hanna-Barbera Productions and is owned by Warner Bros. Television (thru Warner Bros. Animation and Turner Entertainment Co.).
Plot
Here, in a much toned down, non-violent, Yogi Bear and Boo Boo-esque format, the long-popular Tom and Jerry, after years of fighting, have finally become the best of friends in episodes wherein they roamed the world competing in sports, enduring on-the-job misadventures, running afoul of dastardly villains, solving mysteries and helping others. Some of the time, they are pretty competitive against each other. Quacker appears only once in this series, with Don Messick voicing the duckling. The characters Toodles Galore, Butch, Lightning, Topsy, Meathead, Tyke, Tuffy, Mammy Two Shoes, Joan and George do not appear in this show. Also, Jerry wears a red bow tie in the series. The show is mainly non-canon to the series.
Sound Effects Used
H-B BIRD, DUCK - FUNNY DUCK QUACKING, ANIMAL

(Heard once in "Tricky McTrout".)

H-B SLIDE, CARTOON - LONG SLIDE WHISTLE DOWN

H-B SLIDE, CARTOON - LONG SLIDE WHISTLE UP

H-B SLIDE, CARTOON - VERY LONG SLIDE WHISTLE DOWN

H-B SLIDE, CARTOON - VERY LONG SLIDE WHISTLE UP

H-B SNAP, CARTOON - POP AND BIG SNAP WITH BOING

H-B SPIN, CARTOON - WACKY SPIN WITH DRUM

H-B SQUEAK, CARTOON - ROLLING WHEEL SQUEAKS

H-B TAKE, CARTOON - RAPID TUBE TAKES

 (Heard once in "The Ski Bunny.")

H-B WOBBLE, CARTOON - METAL SHEET WARBLE

Sound Ideas, BOING, CARTOON - HOYT'S BOING (Heard once in "The Ski Bunny.")
Sound Ideas, BOINK, CARTOON - DOINK 03 (Heard once in "The Sorcerer's Apprentices".)
Sound Ideas, BOINK, CARTOON - HOYT'S BOINK (Heard once in "The Campout Cutup".)

Sound Ideas, CARTOON, BLINK - RAPID EYE BLINKS

Sound Ideas, CRASH, CARTOON - KEN'S BASS, DRUM AND CYMBAL CRASH

Sound Ideas, HIT, CARTOON - FLAT PEEONG 01

Sound Ideas, HIT, CARTOON - GOLF SWING AND HIT

Sound Ideas, HIT, CARTOON - HEAVY TIMP RISE (Heard once in "The Ski Bunny.")

Sound Ideas, MOTORCYCLE, CARTOON - MOTOR MOUSE: START AND PEEL BY, AUTO

Sound Ideas, RICOCHET - CARTOON RICCO 01 (Heard once in "The Ski Bunny.")
Sound Ideas, RUN, CARTOON - TEMPLE BLOCK GALLOP, SHORT (Heard once in "The Ski Bunny.")
Sound Ideas, RUN, CARTOON - WIND WHISTLE SCAT (Heard once in "Tricky McTrout".)

Sound Ideas, SEAL - SEAL BARKS, ANIMAL

(Heard once in "Tricky McTrout".)

Sound Ideas, SKID, CARTOON - SHORT SKID

 (Heard once in "The Ski Bunny.")

Sound Ideas, SLIDE, CARTOON - FAST SLIDE UP AND DOWN 01

Sound Ideas, SLIDE, CARTOON - FAST SLIDE UP AND DOWN 02 (Heard once in "The Ski Bunny.")

Sound Ideas, STRETCH, CARTOON - RUBBER STRETCH, LONG

Sound Ideas, SWISH, CARTOON - TWIRLING SWISH, MEDIUM

Sound Ideas, SWOOSH, CARTOON - BIG SWOOSH 01 (Heard once in "The Ski Bunny.")

Sound Ideas, TAKE, CARTOON - FUNNY RUN UP TAKE

Sound Ideas, TIP TOE, CARTOON - XYLOPHONE TIP TOE, LONG (Heard once in "The Ski Bunny.")

Sound Ideas, TWANG, CARTOON - BOWANG

Sound Ideas, TWANG, CARTOON - FAST TWANGS, LONG

Sound Ideas, TWANG, CARTOON - HOYT'S BOW TWANG

Sound Ideas, WATER, DRIP - DOUG'S DRIPS, SLOW

(Heard once in "See Dr. Jackal, and Hide!".)

Sound Ideas, WATER, SPLASH - BIG SPLASH, CARTOON

Sound Ideas, WATER, SPLASH - LIGHT SPLASH, CARTOON 01

Sound Ideas, ZIP, CARTOON - BIG WHISTLE ZING IN (Heard once in "The Ski Bunny.")
Sound Ideas, ZIP, CARTOON - BIG WHISTLE ZING OUT (Heard once in "The Ski Bunny.")

Sound Ideas, ZIP, CARTOON - KEEN ZIP OUT

Sound Ideas, ZIP, CARTOON - QUICK WHISTLE ZIP IN (Heard twice in "Tricky McTrout".)
Image Gallery
The Tom and Jerry Show (1975 TV series)/Image Gallery
Audio Samples