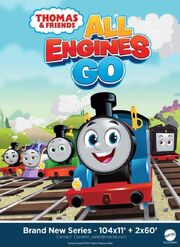 Thomas & Friends: All Engines Go is an animated educational children's television series developed by Rick Suvalle that premiered on Cartoon Network's Cartoonito block in the United States on September 13, 2021, on Treehouse in Canada on September 18, 2021, on Netflix on October 29, 2021 and premiered on Milkshake on Novermber 8, 2021 and Nick Jr. in Australia and Ireland, TF1 in France and WarnerMedia for MENA and Latin American regions with its first DVD release - "Time For Teamwork", scheduled to be released on December 7, 2021.
The series serves as a reboot of the original Thomas & Friends series that ran from 1984 to 2021. It was originally set to be a continuation of the original series (with the two seasons labeled as series 25 and 26), but Mattel Television later confirmed it to be a separate series. It introduces "an entirely new approach to Thomas & Friends content," with a new animation style and story structure.
Unlike the original series, All Engines Go was developed in North America rather than Europe.
Contents
1 Storyline
2 Also See
3 TV Show Intro
4 Sound Effects Used
5 Image Gallery
6 Audio Samples
Storyline
Also See
Thomas & Friends: All Engines Go! (Trailers)

Thomas & Friends: All Engines Go! (Promos)

Thomas & Friends: All Engines Go! Shorts
TV Show Intro
Sound Effects Used
Image Gallery
Thomas & Friends: All Engines Go!/Image Gallery
Audio Samples