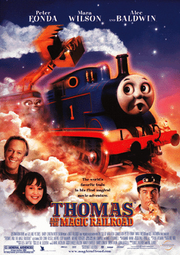 Thomas and the Magic Railroad is a 2000 British/American/Canadian live-action/animated hybrid based on the 1984 series, "Thomas the Tank Engine and Friends" and the 1989-1995 PBS series "Shining Time Station" produced by Gullane Pictures and released by Icon Film Distribution on July 14, 2000 and Destination Films on July 26, 2000. It was released in Japan, Germany and Australia in late 2000 and finally in New Zealand on April 7, 2001.
Storyline
Thomas the Tank Engine and his friends are being threatened by diesel engines like the surly Diesel 10 and his sidekicks Splatter and Dodge. Even the magical Mr. Conductor, who has always traveled between the train world and the human world of Shining Time Station, is losing his powers and sparkle. In the middle of this crisis, Lily meets up with Mr. Conductor on the way to visit her lonely grandfather Burnett Stone. Brave Thomas reminds them all that "even little engines can do big things."
Sound Effects Used
Image Gallery
External Links
Community content is available under
CC-BY-SA
unless otherwise noted.