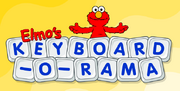 Description
Press any key to play with Elmo in this game for toddlers.
Link
エルモのキー・ボー(ド)ラマ | ゲーム | あそぶ | セサミストリート
Play Together
Press a letter on the keyboard and listen as Elmo names an object. Ask your child to think of something else that begins with that letter.
PBS Kids/Playhouse Disney Games
Sesame Street Games
Community content is available under
CC-BY-SA
unless otherwise noted.