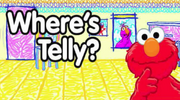 Description
Telly is lost! Listen to the sounds to help him find his way.
Trivia
Where You Figure Out These Answer down below, Telly Says to his neighbors for the following.
Birthday Party: "Happy Birthday!"
Baseball Game: "Go Team!"
City Street: "Ride, Taxi!"
Concert: "Rock and Roll!"
Restaurant: "Check Please."
Mars: "Huh?"
Video
PBS Kids/Playhouse Disney Games
Sesame Street Games
Community content is available under
CC-BY-SA
unless otherwise noted.