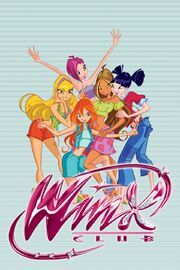 Winx Club is an animated series co-produced by Rainbow SpA and Nickelodeon (which are both part of Viacom).
Contents
1 Storyline
2 Also See
3 TV Show Intro
4 Sound Effects Used
5 Image Gallery
6 Audio Samples
7 External Links
Storyline
Bloom is a special Earth girl with magical powers who travels to the Alfea College for Fairies to perfect her skills. She quickly befriends her fellow fairies Stella, Flora, Musa, Tecna, and Aisha. Together these six girls are the Winx Club.
Also See
Winx Club: The Mystery of the Abyss (2014)
TV Show Intro
Sound Effects Used
Image Gallery
Winx Club/Image Gallery
Audio Samples
External Links